French winger Gabriel Obertan signed his first professional contract as a footballer at Bordeaux in the French top flight shortly after spending one year in the Bordeaux reserves. Gabriel Obertan put pen to paper on a three-year professional contract at Bordeaux at the start of the 2006/07 season and he was given the number 26 jersey as far as the first team squad at the club is concerned.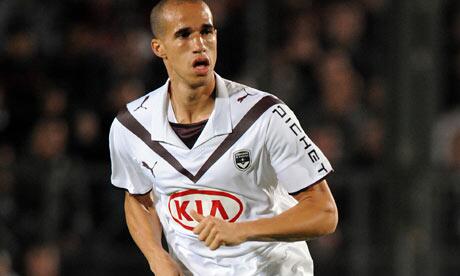 Gabriel Obertan made his Bordeaux debut at the age of just 17 against Valenciennes in the French top flight league. On September 30, 2006, the winger played his first game forBordeaux as a substitute. He came on for the final 15 minutes as Bordeaux were on the end of a 2-0 defeat at the hands of Valenciennes. His Champions League debut came against Premier League heavyweights Liverpool in a game that ended in a 3-0 defeat.
Obertan scored his first Bordeaux goal during the league win over Saint-Etienne. He scored his first goal for the team in the final moments of the game to seal a 2-0 away win at the expense of Saint-Etienne on April 22, 2007. In his first season as a professional player, Gabriel Obertan scored once in 23 games in all competitions with 17 of those matches coming in the league.
In his second season with the Bordeaux first team, Obertan was given a contract extension and he went on to score three times in 37 games in all competitions. A lot of his appearances were still as a substitute. His status as a constant substitute didn't change during the first half of the 2008/09 season. His best game for Bordeaux during that season came against Guingamp in the Coupe de la Ligue. Gabriel Obertan scored twice to lead Bordeaux to a 4-2 win over Guingamp during the cup game played on November 11, 2008. Bordeaux decided to send Obertan to Lorient on loan for the second half of the season with the club going for the league title since he rarely started league games in the first half of the season. In the end, Bordeaux won the 2008/09 French Ligue 1 title under the watchful eyes of Laurent Blanc and Obertan contributed 11 appearances before his loan move to Lorient.